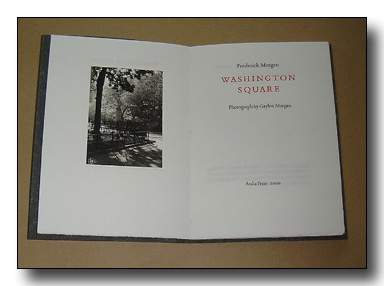 Washington Square
, 2003
Click here to learn more about this book and how to purchase it.
---
Washington Square
Late in the twenties when I was small
in breezy spring and sullen fall
I walked each day to Washington Square
to play with other children there:
Paul, the minister's son,
Laura, who loved to run,
Benjamin with his costly toys,
and Sue, who said she hated boys.
Near the north entrance to the park
we'd meet at noon and play till dark
wide-ranging through those endless hours
as though all time and space were hours—
for when we five combined
we paid the hours no mind
so dazzled were we by the maze
of wonders opening to our gaze.
Each day that passed revealed a world—
a landscape secretly unfurled
to our five pairs of eyes alone.
As king or queen each ruled his own
in turn, day after day
in strict sequence and sway,
and fixed its boundaries and decreed
the laws which all the rest must heed.
For justice governed all our play:
no single passion might outweigh
the claims of all to equal share
in treasure unforeseen and rare.
And so we roamed at ease
through joyful seigneuries
each vassal proven by the sword
loyal to Lady or to Lord.
I still recall those ancient games!—
the talismans, the secret names,
the questing knights and demoiselles
the wizards weaving crafy spells,
and best of all our fair
strong fortress-castle, where
tired and exultant, friend by friend
we met at each adventure's end.
So the weeks passed—until one day
when I arrived at noon to play
near the great Arch, at the usual place,
I found no welcoming form or face:
no comrade had appeared.
I waited, watched and feared—
then wandered, aimlessly alone,
up and down those paths of stone.
This was a world, it seemed, this bare
immensity where here and there
dim random shapes loomed into view—
this was the world that strangers knew.
I, its frailest part
received it from the start
as closer to the quick of things
than all our brave imaginings.
I stared straight up at the pale sky
where hulks of cloud went drifting by
and knew myself alone and pure.
"Whatever comes, you shall endure,"
a voice spoke inwardly,
a voice not strange to me.
I tracked my hand across my face
and felt the world shift in its place.
Next day all seemed restored. My four
good friends returned—we roamed once more,
releasing brighter energies
as though we'd found new selves to please.
Thus other months sped by
and seasons changed, as I,
aware that all must pass away,
lived on intensely day to day.
Comrades!—how has life served you all?
Benjy grew up a drunkard, Paul
was killed in Normandy, and Sue
moved somewhere west, was lost from view.
Sweet Laura, first to go
died of the polio
in '33—my loved, aged ten.
Sometimes I wish you back again,
the four of you, just as you were,
triumphant in that eager stir
of childhood—and myself with you
as I was then . . . But it won't do.
No dream of holding fast
to a beloved past
can cloud the heads of those who know
what's dead is dead, and rightly so.
Children still play in Washington Square
but they don't roam free, they must beware—
gone is their ancient liberty.
Gone, too, that civic decency
which cherished old and young
who shared the common tongue
America bows to new, weak gods;
its children play against the odds.
Laura, Benjamin, Paul and Sue,
you've gone your ways. I'm going, too.
Our early joys were dearly bought—
the world was never what we thought—
and yet, we're justified:
it wasn't we who lied.
Now leave me, friends, and leaving, bless.
Once more I face the emptiness.